"A fragment of a dream" is how Truman Capote described a glass paperweight. There are hundreds of those pieces of dreams in the famous Rubloff Collection of Paperweights at the Art Institute of Chicago. Now a local art gallery is preparing to auction off a portion of that collection, with the sales going to the museum and a nonprofit.
"Chicago Tonight" got a preview of this uncommon event.
TRANSCRIPT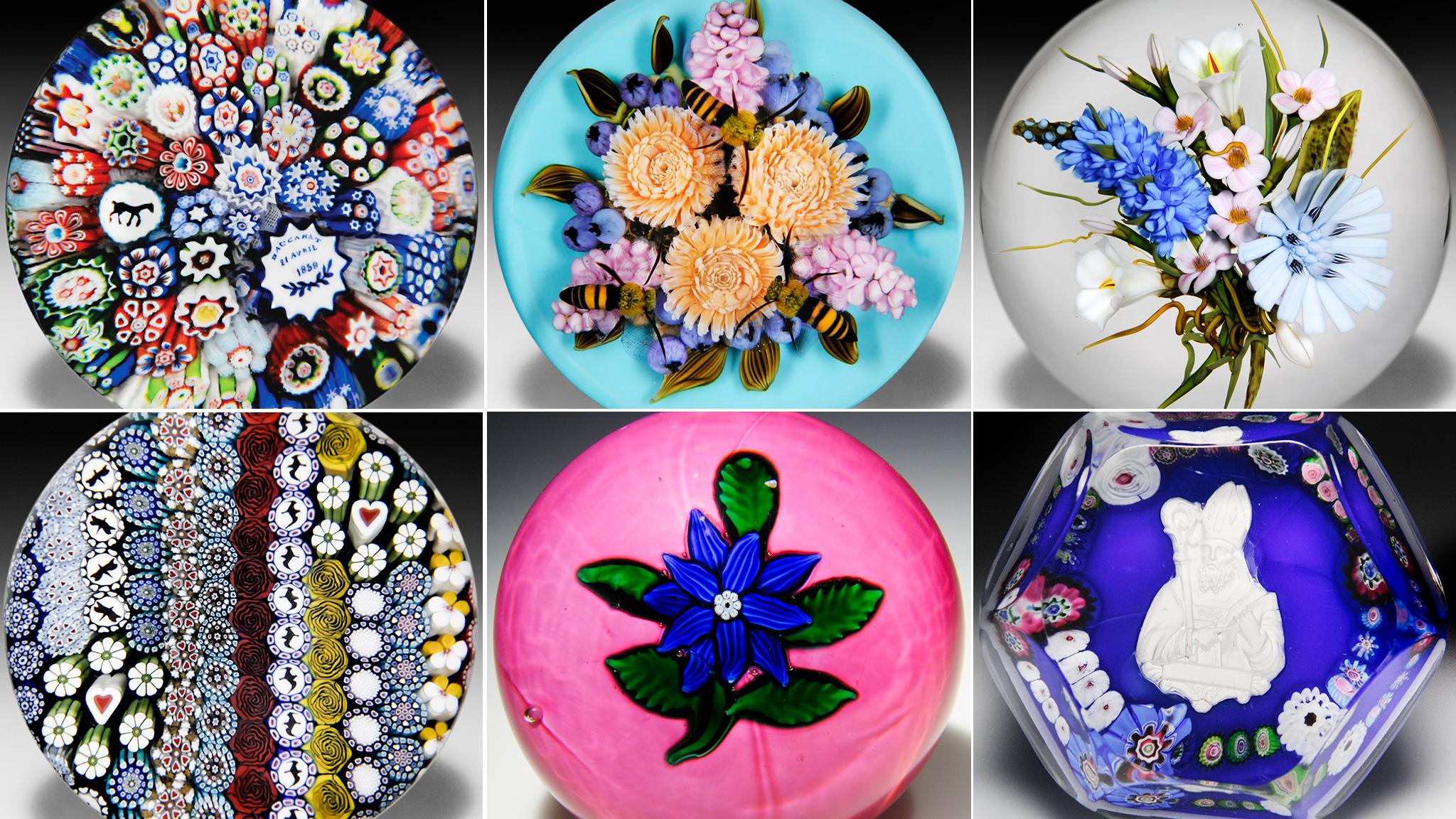 Glass paperweights from the Rubloff Collection at the Art Institute of Chicago. (L.H. Selman Ltd. / Top row, bottom left: Courtesy of L.H. Selman Ltd. Bottom row, center, right: Courtesy the Art Institute of Chicago)
Phil Ponce: In the historic Fine Arts building on South Michigan Avenue, the L.H. Selman Gallery has focused almost exclusively on paperweights since the company began in 1969. 
Paul Berlanga, Selman Gallery: A beautiful paperweight is an eternal bubble. It is created from molten crystal; it is infused with very delicate but very well-considered, pleasing geometries, filled with shapes and colored pieces of glass that are coaxed into position as the glass cools.
Penelope Turgeon, Glass Paperweight Foundation: They really draw your eye in, when you find one that just resonates in its symmetry or in its originality, it becomes really a personal item.
Ponce: Paperweights can be etched with portraits of notable people, filled with lifelike creations of flowers and insects, or merely playful abstractions.
You can also find a 50-pound paperweight to pin down your papers when a hurricane wind is blowing.
But the most prominent works in the gallery these days come from the Art Institute of Chicago.
Turgeon: The Art Institute has contacted us and asked if we would help them auction off some of the duplicates that they have from their exhibit there.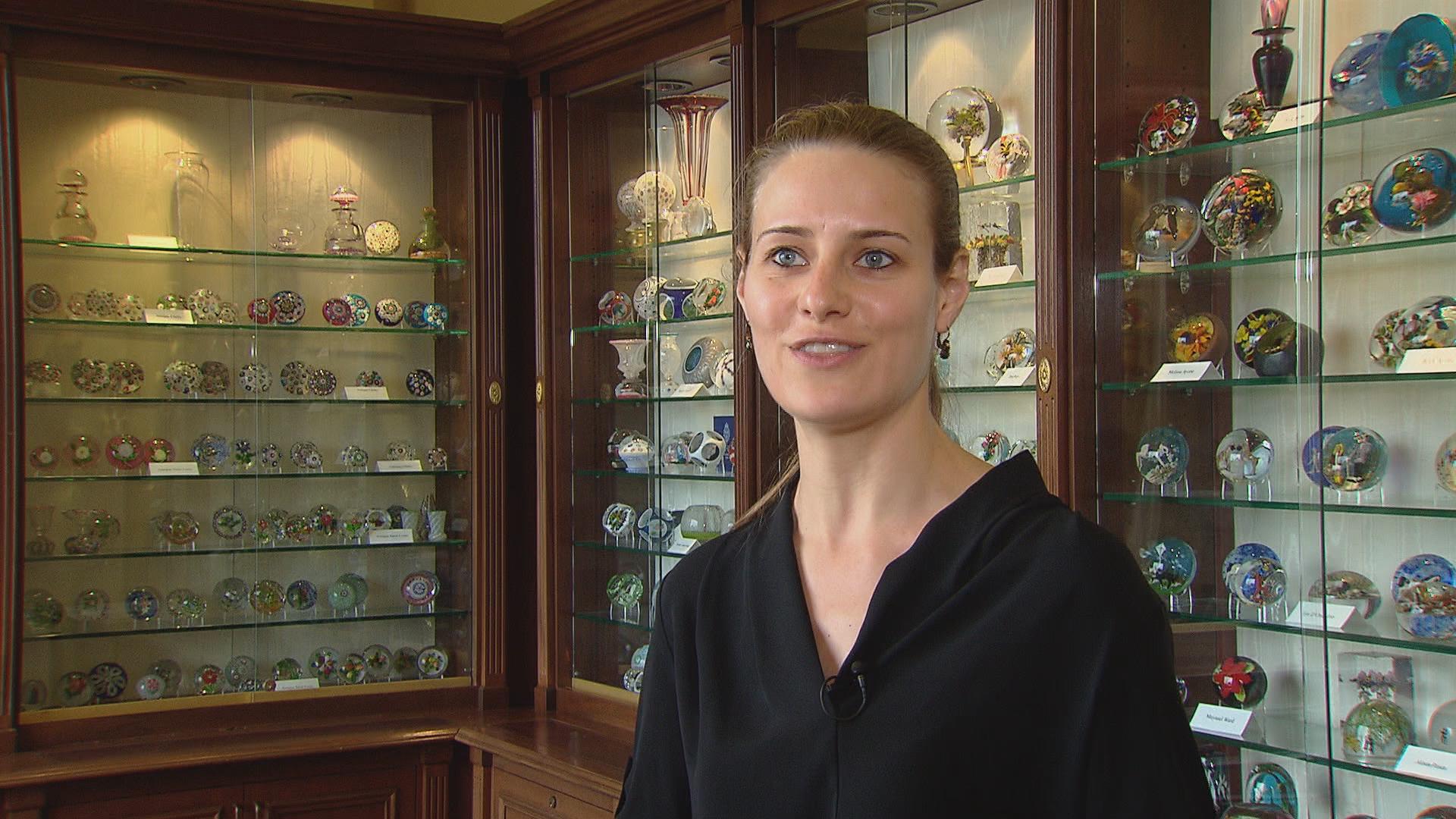 Penelope Turgeon
Berlanga: We are preparing for a one-of-a-kind auction, the first time that the Art Institute has decided to sell paperweights from its large collection, and they have honored the LH Selman Company with the task of presiding over the auction.
Ponce: The hammer price of the winning bid goes to the Art Institute – and also benefits the Glass Paperweight Foundation, a Lake Forest nonprofit that seeks greater awareness of the glass paperweight as an art form.
Not only have these works been in a museum – where they were considered redundancies in a very complete collection – they once belonged to prominent Chicagoans – including the Potter Palmer family, and real estate developer and philanthropist Arthur Rubloff.
Many of these paperweights come from the so-called classical period in France and Italy in the mid-19th century.
Turgeon: The bourgeoisie was expanding, and accessorizing your desk was in fashion at the time: you would get your inkwell and your matching paperweight, but then the paperweight just had a life of its own. The glassworks were competing to make the most intricate and they're also very easy to collect so we have much more paperweights than we have inkwells.
Ponce: One technique, millefiore, Italian for "a thousand flowers," was invented over 2,000 years ago.
Turgeon: It was actually the Babylonians who invented this technique, and what they were doing was pulling pieces of glass and cutting cross sections where you would see a flat image of the design they wanted.
Ponce: A modern technique, "lampwork," uses a torch to mold the molten glass and create three-dimensional images inside.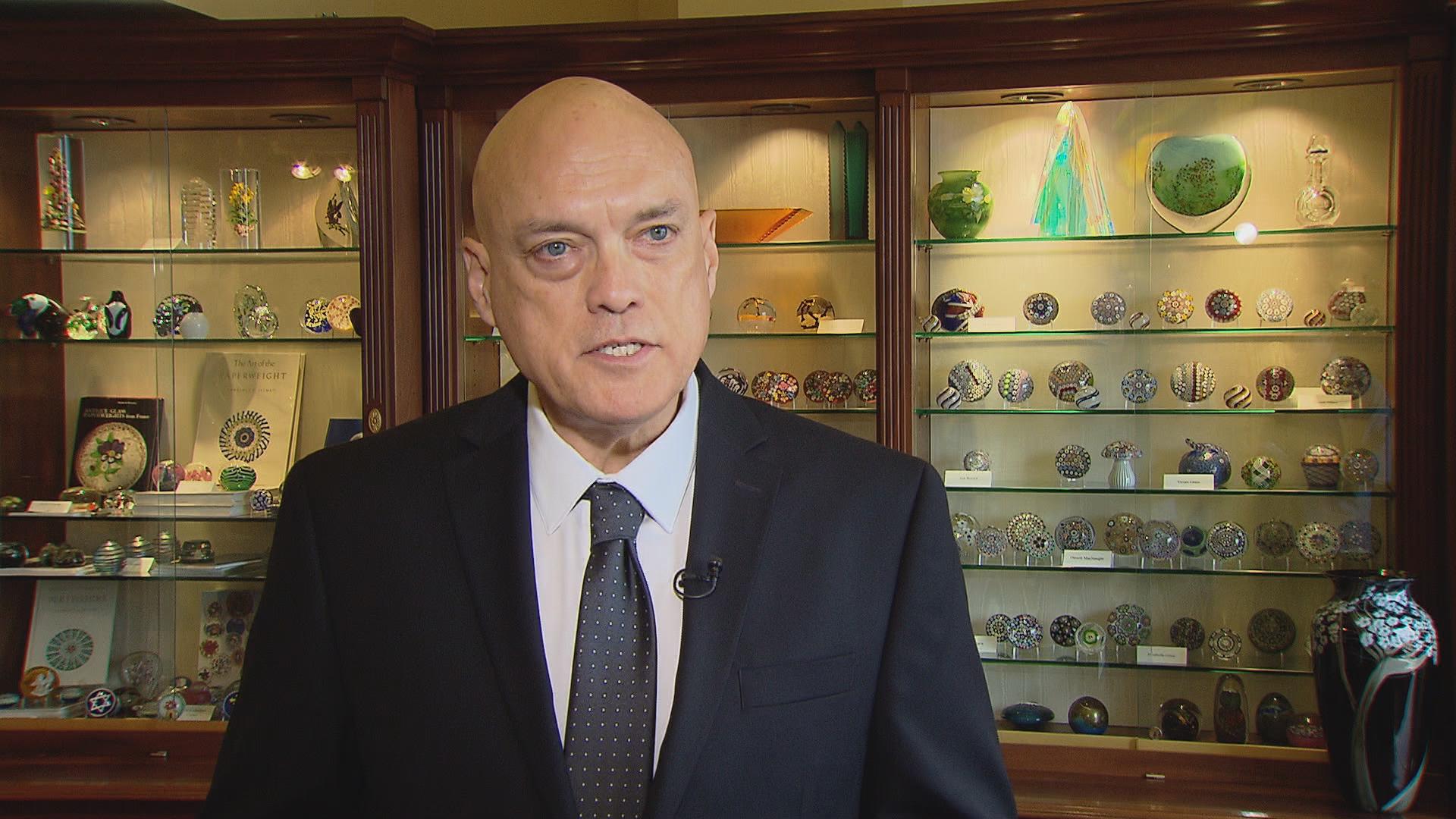 Paul Berlanga
Berlanga: When you look at a piece by someone like Paul Stankard, one of the modern masters, you'll see delicate flowers, you'll see root systems of plants, you'll see all kinds of things inside the glass.
Turgeon: Part of the mystery is how do you get a subject inside the globe. What we need to understand is that at 2,500 Fahrenheit anything that was carbon-based would incinerate, and so they have to use only things that would survive, which is glass.
Ponce: Paperweights are sturdy but not unbreakable–they're most likely to be damaged by banging against something with a similar density, like another paperweight. The color of the glass is as bright as the day it was made and never fades.
But you don't want to place a glass paperweight in direct sunlight–these globes of glass can reflect sunlight and start a fire.
For now these museum-quality glass paperweights are seeking new owners. At the upcoming auction, every lot will have a starting bid of $1,000 dollars.
Turgeon: It's a rare opportunity. We want these paperweights to go to good homes, and we also want to be able to give the collectors an extra present, something that has historical significance but also very meticulously selected pieces.
Ponce: Pieces that attract art collectors with an eye for glass.
Berlanga: I think they lower your blood pressure. They are worlds within worlds.

More on the story
The 300 paperweights will be up for auction on Saturday, Sept. 17. And there will still be more than 800 paperweights on view in the Arthur Rubloff paperweight collection at the Art Institute.
---
Related stories: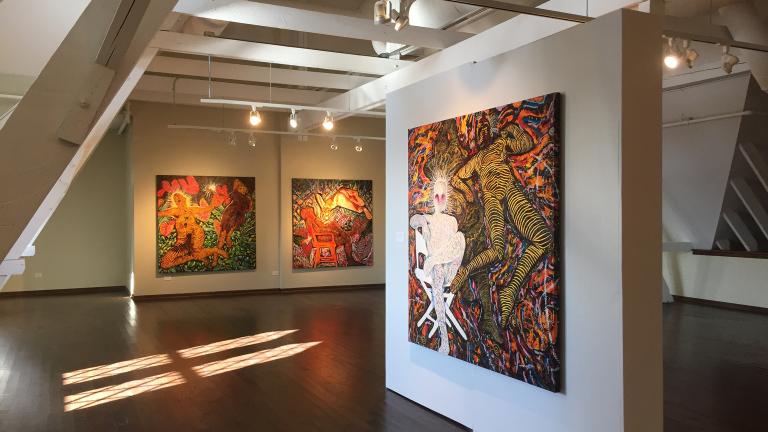 Puerto Rican Museum Celebrates Culture, Embraces New Traditions
Aug. 10: Take a look inside a museum of Puerto Rican art and culture in a historic building in Humboldt Park.
---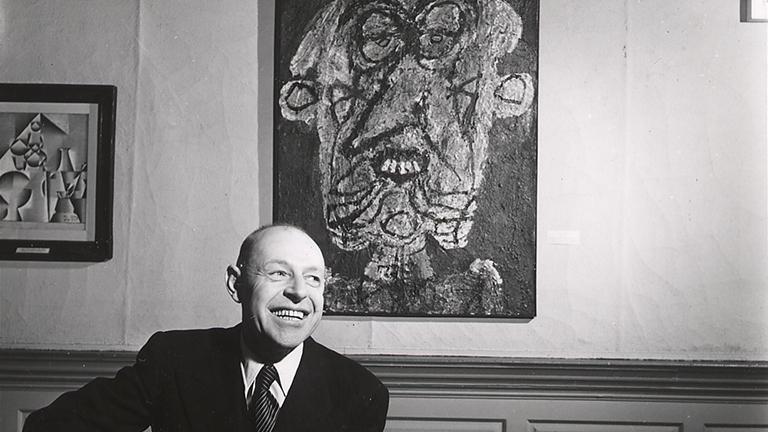 The Arts Club of Chicago at 100
July 12: Picasso, Miro, and now the latest acquisition of the Arts Club of Chicago as it marks its centennial year.
---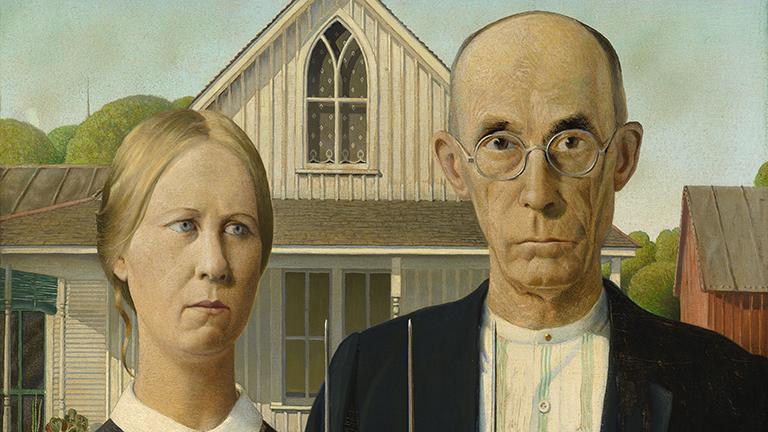 Turbulence of America in 1930s Gives Rise to Distinct Artistic Voices
July 5: It has been said that the Great Depression was the best thing that ever happened to American artists. A new exhibition looks at how artists of the 1930s applied their diverse visions to the American dream during this time of immense change.
---